Monday Open: $1,234.30
Weekly High: $1,265.80
Weekly Low: $1,224.00
Friday Close: $1,237.50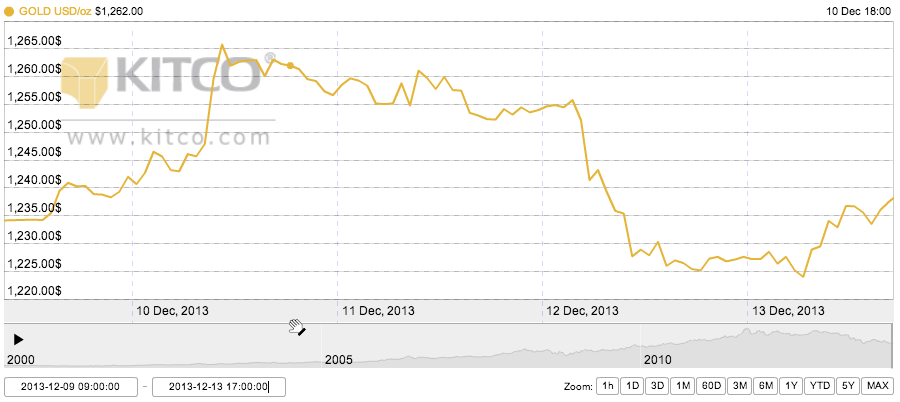 Gold will end its 12-year bull run this year, analysts across the board conclude. After dropping around 20% since the beginning of the year, the yellow metal seems to have hit the end of its winning streak. Yet, despite short-term losses, many believe the price of gold has hit a bottom for the time being and still holds long-term staying power.
Monday's gold prices remained fairly unchanged after the previous Friday's bolstering U.S. jobs report, even gaining a few points. It was released on Friday that nationwide unemployment had reached its lowest level since 2008. Despite such news, gold did not respond in a significant way. This is one indication that the sellers may have all left the market.
One of the biggest price indicators for gold this year has been talk of the Federal Reserve ending its quantitative easing program on hopes that the economy is steadily improving. On Monday, President of the Richmond Federal Reserve Bank, Jeffrey Lacker, made a statement that the Fed will discuss bond tapering at its meeting next week. St. Louis Fed President James Bullard separately stated that he endorses a small December taper.
Despite this bearish news for gold, Tuesday actually saw price gains. This may mean that gold bulls are still optimistic. Many foresee that a few positive economic data points do not equate to long-term positive growth. This makes gold still a player on the field as an economic hedge fund. Forbes KITCO analysts also premise that gold may remain steady for the next 1-2 years but could gain momentum after that.
In other world economic news, on Wednesday Canadian gold miner IAMGOLD announced that gold prices were too low to pay dividends to their investors, so dividends are being suspended for the time being. On Thursday, Germany's financial watchdog started an investigation into Deutsche Bank's possible manipulation of gold and silver prices.
Gold investors anticipate next week's Federal Reserve meeting for further clues about economic policies.